Amsterdam West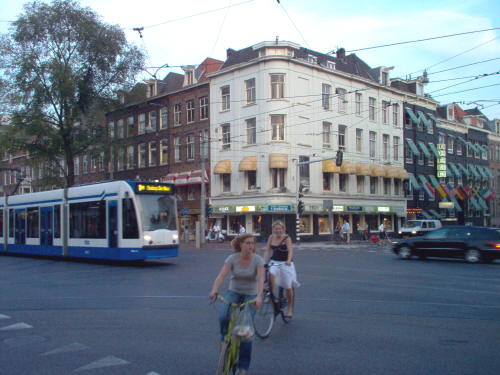 The West has a much worse name, especially within Amsterdam, than it deserves. I lived there for seven years and, if I'm honest, some of the descriptions in the local media of Mercatorplein and environs appear to be describing a parallel, far more threatening, universe rather than the one I inhabit.

I won't pretend it has anything like the same concentration of unspoilt pubs as the city centre. But where does? (Antwerp, maybe.) Where you live, probably doesn't. Contextualisation is the (bullshit) word for what I'm doing now. The West has a few pubs I really like and usually visit in when I'm the area. But don't expect whole streets of them.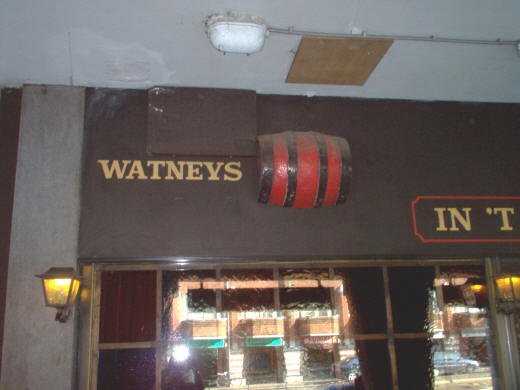 To the left you can see a real rarity - a pub still branded as Watneys, complete with a red barrel (though look closely and you'll spot it's from Amstel). Any guesses when they last painted the outside?

I've been intending to photograph it for years. So many, in fact, I'm amazed it hasn't been restyled in the meantime. I can now go to my grave with a clear conscience. Apart from the 7,832 other things I really have to do.

In 't Vierde Baarsje is a restaurant, not a pub, on Surinamestraat, just past Ter Brugge, should you be interested in this relic of an era most would prefer to forget.


More general information on Amsterdam, its pubs and the beers they sell . . .
Sound Garden
Marnixstraat 164-166,
1016 TG Amsterdam.
Tel. 020-620 2853

Opening hours: Mon - Thur 16:00-02:00
Fri - Sat 16:00-03:00

Number of draught beers: 5
Number of bottled beers: +-15
Regular draught beers:
Food: Snacks.
Soungarden is made up of two houses knocked through to make a fairly large pub. Being right next door to the fire station, it's pretty easy to find. The décor is very spartan, a bit as if they started with the idea of doing a complete makeover, but then ran out of money and enthusiasm half way through the job. The basic, slightly anarchic look goes well with the music and customers, both a mix of 70s and 80s punk/grunge/hard rock styles. Unpretentious and not at all threatening.

At the back there's a split-level "garden", which contains fewer plants than a multi storey car park, but which does have a good view of a canal. There's a dartboard, which looks like a bit of a pain to play on as as people are continually elbowing their way past on the way to the garden.

They have three permanent draught beers plus a changing selection of guests, which include some quite unusual and interesting Belgian ones. Cheap, sometimes very cheap and occasionally unbelievably so (they had Poperings Hommelbier for HFL 3,75 - not bad for an imported beer of 7.5%). The bottled beers include Schneider Weizen (at a very sociable price on my last visit) and Budels Parel.

Rating: ***

Public transport: Tram 13, 14, 17
Café Westers
Eerste Constantijn Huygensstraat 35,
1054 CT Amsterdam.
Tel. 020-612 1691
email: info@cafewesters.nl
http://www.cafewesters.nl/

Opening hours: Mon - Thu 11:00-01:00
Fri 11:00-02:00
Sat 11:00-02:00
Sun 11:00-01:00
Number of draught beers: 6
Number of bottled beers: +-15
Regular draught beers:
Food: Snacks €3-6, meals €7-15, beer (La Chouffe) €3.
Although not more than a 5-minute walk away from the Leidse Plein, Café Westers is mostly undisturbed by the hordes of revellers (I'm being particularly careful in what I say here) and tourists to be found there. Which isn't to say that it's totally dead, as this little corner of Amsterdam has a surprising number of trendy cafés and attracts plenty of customers.

Westers itself is large for an Amsterdam pub, having been recently extended behind the bar to give it an unusual U-shape. It has an elegant 30's-style look, with most of the fittings made from dark wood and a couple of groovy leaded glass details in the windows.

The quiet, calm atmosphere makes it the perfect spot to read your newspaper with a good glass of beer or to have a chat with a few friends. There are times when I agree with Kinky Friedman about the sound of a human voice singing. And I have never (you can be absolutely certain of this) toured in a country band. A couple of years living in Amsterdam and drinking in bars was more than enough for me. Which do I prefer, crap music or silence? . . . . . . . . . . . . . . . . . . . . . . . . . . (in the glorious days when I started this joke, I didn't bother to consider how I could portray an absence of sound} . . . . . . . . . . . . . . . . . . . . . . . . . . . . . . . . . . .
. . . . . . . . . . . . . . . . . . . . . . . . . . . . . . . .

The beer selection is excellent and not rivalled by many pubs outside the city centre. It tends to vary slightly with the season, but is mostly based around products of the Brand brewery. Seeing as it produces some of the best commercial Dutch beers (despite being owned by Heineken), that is no bad thing. In Autumn, expect to see the excellent Brand Dubbelbock (7.5%), the only example of the German doppelbock style brewed in Holland. In the Winter, Brand Sylvester (7.5%) is, very unusually, available on draught. One tap offers a changing selection of beers.

The only complaint about the beers, is that they do seem to be served with a little too much top pressure, giving them all the same sherbet aroma.

Rating: ***
Public transport: Tram 1, 3, 7, 12
Café Ebeling
Overtoom 50
1054 HK Amsterdam.
Tel. 020-689 1218
Homepage: http://www.cafeebeling.com

Opening hours: Sun - Thu 11:00-01:00
Fri - Sat 11:00-03:00
Number of draught beers: 4
Number of bottled beers: +-10
Regular draught beers:

Food: Snacks, meals. Westmalle Dubbel €4 !!!!
I own up. I took my eyes off the ball. Sometime when I wasn't paying attention, pretty much everything in Ebeling has been ripped out. Gutted, you could say. But not as gutted as I was when the bill came.

I hope I haven't misdirected many hippies into this karma-free piece of high-tech. A more total transformation is hard to imagine. I suppose it's a matter of taste as to whether you think the changes are an improvement.

In many ways, Ebeling resembles a club more than a pub. Apart from the ouside seating. Very dark, bare and cold, with giant screens all over the place. Very nice, but at four in the afternoon it isn't really what I'm looking for. The total absence of company for me inside hints that I'm not alone in my opinion. Unless I've been letting my standards of personal hygeine drop. No, it can't be that - it was empty when I walked in. The presence of two bars can't be just optimism. E guess it's heaving later on. As I would be myself, most likely.


I always thought that the potential of Ebeling wasn't being fully realised. It's like the inside of a hangar compared to your standard Amsterdam pub.

Fair game to them. They've tried a different approach. But it was the beer, rather than the décor that pissed me off. There's always been a sort of Inbev thing going on. But with added Guinness. Not much of a change there. I don't mind that much, because I don't usually drink draught beer. Not the sort of draught beer most pubs sell. I stick with Westmalle or Duvel outside real beer places. I don't expect to be given it for free. But €4 for a Westmalle Dubbel. Four euros. That's nine guilders. You used to be able to buy a house for that.

You might like it. If you think a nightclub is the most stylish destination possible, you'll probably love it. I'm hovering somewhere between indifference and active dislike.

Rating: *
Public transport: Tram 1, 7
L'Affiche
Jacob van Lennepstraat 39,
1053 HB Amsterdam.
Tel. 020-612 1959

Opening hours: Sun - Thu 12:00-01:00
Fri - Sat 12:00-03:00

Number of draught beers: 4
Number of bottled beers: +-10
Regular draught beers:

Food: Snacks.
As soon as you walk through the door you'll understand (if you have a smattering of French) the origin of this pub's name. The top halves of the walls are engulfed in multiple layers of concert, theatre and film posters that bulge out over the panelling of the lower section. A subtle touch is a miniscule "Défense d'afficher" sign amongst the shelves behind the bar. As this is the only area of wall poster-free, the admonition has obviously been successful. I also liked the "Festival of Unlistenable Songs" poster on the door of the ladies. Are they trying to tell us something here?

I suppose that you could call this a "themed" pub, but that would be strecthing the point. It's a very simply arranged brown café with half a dozen tables, bare floors and a few barstools. When the weather is good, you can take advantage of the very pleasant setting on the corner of a quiet street and a canal and sit on one of tjhe benches outside. Round about is an odd little backwater of peaceful old streets tucked in between the town centre and the Kinkerstraat. One of the few unspoiled parts of 19th century Amsterdam.

Rating: ***
Public transport:
Schaper
2de Hugo de Groot Straat 29,
1052 LA Amsterdam
Tel: 020 - 684 2224
Opening hours: Mon-Thur 10:00 - 01:00,
Fri-Sat 10:00 - 03:00,
Sun 11:00 - 01:00,
Number of draught beers: 5
Number of bottled beers: 6
Regular draught beers:

Food: Snacks €2-5, meals €8.50-11.20. Beer €2.70 for La Chouffe, €3 for Duvel.
A reasonably spacious corner brown café in ann odd corner of town, crammed in just above the Jordaan. It's a couple of doors along from former premises of Bert's Bierhuis.Though in an unusual spot, it's a bare 50 metres from Singelgracht, the border of the city centre.

Around the entrance is some lovely etched glass, the boards of the floor are bare and broad. The furniture is a disparate collection that looks as if it was asssembled on Queen's Day. A billiard table of the pocketless type - always a sure sign of a locals' pub - fills up the centre section. But then an informal wallpaper of theatre posters all but conceals the wall panelling - usually an indication of a yuppie pub. The guy on one poster bore an uncanny resemblance to the barman. What's going on here?

The usual clump of regulars were clogging up the space around the bar, billowing out clouds of fag smoke. They didn't seem to object to our presence greatly.

Outside, thankfully on the side street and not the busy Hugo de Groot Straat, there's quite a bit of outdoor seating. Handy given the gusto wuth which most customers inside were smoking.

Rating: **
Public transport: Tram 3 to Hugo de Groot Plein.
Louter
De Clercqstraat 82,
1052 NK Amsterdam.
Tel. 020 - 389 2623
http://www.cafelouter.nl/
Opening hours: Sun - Thur 10:00 - 01:00,
Fri-Sat 10:00 - 06:00
Number of draught beers: 6
Number of bottled beers: 21
Regular draught beers:
Food: Snacks €3.50-6.50, meals €6.50-16.50. Beer €3.50 for La Chouffe, €3.50 for Duvel.
You know how I often say "I've passed pub blah-blah-blah for 30 years on the tram and only now bothered to go in"? This time, only a couple of weeks after spotting this new addition to Amsterdam's cafe scene, I got my arse in gear and dropped by. Sometimes, just sometimes, I do improve.

I used to live a few hundred metres away. All the pubs were total crap - places with a beer selection or draught pils and draught pils. The appearance of Louter speaks volumes of the creeping gentrification of West Amsterdam.

Outside, it looks much like the rest of its Edwardian street. Inside is a different story. Pop art collides with post-modernism is how I would describe it. Minimalist, but managing to combime formica-topped tables, flock wallpaper and stainless steel. I can safely say I can't name another pub that is even vaguely similar in design. Not in itself a bad thing.

I was struck by the overwhelming preponderance of women amongst the customers - I counted a mere 4 men amongst the 30 or so guests.

The corner location by the Bilderdijk Gracht gives the outdoor seating a pleasant canal view. Iit doesn't matter that much to me - living in the city I've become blasé about the many stretches of water that punctuate its streets - but I know you visitors like that sort of thing.

The beer selection - around 30 in total - leaves it somewhere between a normal cafe and a genuine beer pub. Not that I'm complaning. You can choose from, amongst others, Ij Natte and Zatte, Rochefort 8 and 10, all three Chimays and Brigand.

I will warn you that, judging by the way the seating is configured, food is their priority. Dominated by diners in the evening, I suggest a mid-afternoon visit if you're just out to get pissed. Try to time your arrival with the departure of the last lunchers. Though they are quite happy to just serve you beer at any time of day.

Rating: ***
Public transport: Tram 12, 13, 14.
Kade 58
Jacob van Lennepkade 58-60,
1053 ML Amsterdam.
Tel: 020-6180757
http://www.kade58.nl/
Opening hours: Mon - Thur15:00 - 01:00,
Fri 15:00 - 03:00,
Sat 12:00 - 03:00,
Sun 12:00 - 01:00
Number of draught beers: 5
Number of bottled beers: 8
Regular draught beers:
Food: Snacks €3-12.50. Pils €2, Duvel €3.25.
That yuppification is moving west from the Overtoom is evident from the appearance of Kade 58. It's only a couple of months since I last dropped by this neighbourhood but it has palpably changed in that short time. Gentrification hangs in the air as old rental flats are renovated as a precursor to sale to owner-occupiers and a big new development takes shape on the site of where once one of the city's ugliest buildings stood.

It's sickening. When I lived around this way there wasn't a single pub I enjoyed drinking in. Typical, really, that they start opening decent boozers as soon as I move away. All I had was the choiuce of Heineken Pils or Amstel Pils. A non-choice - like deciding whether to be drowned or strangled.

But I digress. Kade 58 is a relatively spacious corner pub. How would I describe it? A trendy light brown cafe. Some old features - leaded lights, dark bron bar back - have been retained, but there is a definite comtemporary twist in the form of upholstered chairs and painted pine tables.The mix of old and new works reasonably well. Overall it's a welcome addition to the local scene. A couple of years ago I would have moaned about the prices. Now €3.50 for Westmalle Tripel doesn't seem that bad.

I wonder how many pubs in Amsterdam are now selling La Chouffe? It must be pushing three figures, not that I'm complaining. Bottled, there's the usual Duvel, Westmalle Dubbel and Westmalle Tripel.

Rating: **
Public transport: Tram 3 or 12 to Bijlderdijkstraat.
Café Alverna
Bilderdijkstraat 104/106,
1053 KX Amsterdam.
Tel. 020-612 4455

Opening hours: Sun - Thu 11:00-01:00
Fri - Sat 11:00-02:00
Number of draught beers: 5
Number of bottled beers: +-12
Regular draught beers:
Food: Snacks, meals.
Prices: Beer €2-2.75, snacks €3-7, meals €10-13.
In Holland this airy, spacious type of pub is usually referred to as a "grand café". A slightly pretentious tag, not always (as in this case) actually claimed by the establishment itself. (If you were to use the charming establishments around the Leidseplein as the basis of your definition, "grandcafé" would mean a big, overpriced pub full of drunks who look like they're just about to start turning nasty)

The Alverna has a cool tiled floor and a combination of wicker, wooden and bolted-down metal-framed furniture. I have to admit, not a furniture combination I have ever seriously considered for my front room. A lighter hand than mine has combined these elements and created an impression of light and space. (I suppose those huge windows don't do the light bit any harm.) The mixture works very well, creating a relaxed, peaceful atmosphere. (It sounds as if you should expect rows of hippies in the lotus position, meditating for all their might.) It's one of several examples in Amsterdam of modern not meaning cheap, shoddy, poorly thought-out and crap (which is how I see the word being used in the UK). The large seating area outside is pleasantly framed by espalliered trees.

It attracts a pretty diverse clientele, reflecting the ethnic and social mix of the area in which it's situated.

This area of Amsterdam isn't overly filled with good places to drink and the Alverna was a very pleasant addition to the pub stock. It opened half a dozen years ago, replacing a rather dull French restaurant. Pub designers from the UK could learn a lot from a visit here.

The presence of lots of Brand beers and Wieckse Witte lets you know that there's some sort of tie to Heineken. But at least they do permanently offer the delicious - and dangerously strong - Columbus from Amsterdam's oldest micro brewery, 't Ij.

Rating: ***
Public transport: Tram 3, 12 to Bijlderdijkstraat
Gollem's Proeflokaal
Overtoom 160-162,
1054 HP Amsterdam.
Tel: 020-6129444
Email: info@cafegollem.nl
http://cafegollem.nl/

Opening hours: Mon-Thur 16.00-01.00,
Fri-Sat 12.00-03.00,
Sun 12:00-01:00
Number of draught beers: 20
Number of bottled beers: 50
Regular draught beers:
Food: Snacks €3.25-5.75, meals €12.75-18.75. Beer: Pils €2.00, Duvel €4.
Sitting on a number 1 tram trundling along the Overtoom, I noticed something. Proef was no more. In its place was another Gollem. The third one in town. I added visiting it to my mental to-do list.

Saturday afternoon I was at a loose end. The kids didn't want to make any more adverts. Or do anything, other than play a game involving lots of machine guns and splattering blood. Mardy gits.

"Do you fancy checking out the new Gollem?" I asked Mike. "When?" he replied. "In 23 minutes." It pays to be precise with Mike. "OK." Persuading him to go down the pub isn't difficult.

Mike was already there, drooling at the beer list, when I arrived. Soon he was deep in a conversation with the staff about serving temperatures. He had a beer already, bastard. I had to wait until he'd finished to place my order. A pretty obvious one, if you look at their list. Go on, look at their list. It's there to the left.

Until recently, it had been a while since I'd drunk Westvleteren. Then two weeks ago I picked up a bottle in Bierkoning. Just €12.50 for a 12. I only got the one. It was a gusher. About €2.50-worth ended up down the sink.

Spring started this week. We sat outside. "Shift your arse. I don't want you in the background." I had to do the geeky photography bit. If only as revenge for Mike's constant fiddling with his iPhone. After just 20 minutes or so I'd snapped a snappy enough snap and sat back down. And tried my beer.

Here's one of my patented non-reviews. Quite hoppy. That's what I thought. Though, based on an analyses published years ago in the PINT magazine, I know that Westvleteren 12 has more IBUs than any other Trappist (including Orval). Served at cellar temperature, after warming, it tasted sweeter. That enough to establish me as the new Michael Jackson?

Mike's beer choice was less fortunate. A Witkap Pater Dubbel that tasted watered down. "I had a crap one from the shop last week." Mike remarked. "Why the flip did you choose it here then?" I thought. "Yes, it does taste weird" is what I said.

We went inside after the first one. It gave Mike chance to complain about the music. Bebop jazz. He's such a philistine.

I wonder. Westvleteren 12 costs €12. If they still brewed the 4, would that cost €4 here?

We had a couple more beers and went home. As I can't be arsed to describe the pub or more of our visit, here are some pictures.



Rating: ****
Public transport: Tram 1, 6.
Duet
Overtoom 306,
1054JC Amsterdam.
Tel.: (020) 6837981
http://www.restaurant-duet.nl/
Opening hours: Tue - Sun 16:30 - 01:00
Number of draught beers: 5
Number of bottled beers: 2
Regular draught beers:
Food: Snacks €, meals €. Beer €3.50 for Duvel
I seem to recall this being branded as a Stella Artois cafe once. Now it's another trendy eetcafe.

Interior designers have some funny ideas. The strong colours used on the walls are somewhat at odds with the dark wooden bar and rustic tables. Here popart collisdes with French faremhouse. But who isn't fascinated by a car crash? You just can't help looking.

I'm having trouble keeping up with all these new yuppie pubs. But I shouldn't complain. The middle section of the Overtoom used to be pretty light on refreshment opportunities of any kind that didn't involve carpets on the table.

The Inbev tie means the draught beers are a bit crap - Heineken pubs are, since they started pushing Affligem, a much better bet. There are a couple of drinkable bottled beers, including the ubiquitous but reliable Duvel.

As you can see from my beautiful photoggraph, there are a few picnic tables outside to soak up the car fumes of what is, after all, a main road.

***** CLOSED *****

Rating: *
Public transport: Tram 1, 6.
Café De Overtoom
Overtoom 417,
1054JR Amsterdam.
Opening hours:
Number of draught beers: 1
Number of bottled beers: 4
Regular draught beers:

Food: Snacks €, meals €. Beer € for 0.5l.
One irritating side effect of draught Trappist, is the 25 cl glass. A bottle of Westtmall Tripel just, if you fill it up virtually, fits in. But it means you have to pour it very carefully, if, like me, you like to leave the yeast in the bottle where it belongs.

Dark woodwork and gothic lettering give you a good idea of what to ecpect inside, even while you're still stumbling over the tram tracks: a brown cafe. Nutbrown, is how I would describe it. About like Tetley's Mild. The double frontage deceives - inside it's quite compact. And surprisingly gloomy.

A group of very animated locals were playing some incomprehesible (at least to me) card game. Always a good sign. It adds a community-centre feel. Believe me, I mean that in a very positive way. The pub is obviously performing an important social function, as good ones should.

On a street that's moving upmarket even as I write this, a genuine locals' pub lke this a becoming a rarity. All the tell-tale signs of gentrification abound: trendt eetcafes, shops stuffed with stylish lamps and impractical-looking chairs.

With the Vondel park just 50 metres away, the appeal is obvious. I'm shocked at how much some of the West has changed in the last two years. Amsterdam looks like going the way of Paris, with the nice central neighbourhoods reserved for the comfortably-off and all those awful working class and ethnic types pushed out into concrete council estates on the edge of town.

Such pubs are pretty tenacious, but no-one can ignore social trends forever. I suggest you vivsit soon if you want to experience its unspoilt beauty.

Rating: ***
Public transport: Tram 1, 6.
Ter Brugge
Overtoom 578,
1054 LN Amsterdam.
Tel. 020-612 9983

Opening hours: Sun - Thu 10:00-01:00
Fri - Sat 10:00-03:00
Number of draught beers: 4
Number of bottled beers: +-5
Regular draught beers:

Food: Snacks, meals.
Prices: draught beer €1.70-2.20, snacks €3-7, meals €10-13.
Follow the Overtoom heading out of town right to the end and, just opposite one of Amsterdam's ugliest buildings, you'll find Ter Brugge. As its name implies (it means "By the Bridge"), it lies adjacent to a fine bridge, the work of the architect Kramer (who, coincidentally, designed the block of flats where I live).

I would definitely recommend facing in the direction of the bridge if by a window or at one of the many tables outside. You can admire the excellent Amsterdamse School buildings around the Surinameplein whilst turning your back on the brutalist pile of manure (hearing it had been inspired by Le Corbusier's crackpot and pernicious "principles" has only made me hate it more) on the Overtoom.

Inside, you'll find a pleasant mid-brown (you should be getting used to these terms by now) café. The confined space and awkwardly placed pillars make things a little cramped, but it's warm and cosy with lots of natural wood. Placing the bar away from the obstructions (contrast Schuim) certainly benefits personal interaction at the staff/customer interface.

If I say that it seems a bit studenty here, I'm not being nasty or derogatory. There is a slight studenty air to the place, but the customers are a pretty mixed bunch with a good spread of age groups. (I'm usually, but not always the oldest person in the bar. Is it the half-term holidays already?) Friendly bar staff and very reasonable prices are an unbeatable combination for me. I can't help feeling that, just like the Dutch commentator during the Portugal - Holland World Cup Qualifier, I'm tempting fate when I say that it's about the last pub not to have increased its prices since we got the euro.

The beer range is pretty limited and there is an obvious Interbrew tie. The bottled beers include enough decent ones - Westmalle Dubbel and Tripel, Duvel - which, though not particularly exciting, do offer something worth the trouble of drinking (especially at the price).

Rating: ***
Public transport: Tram 1, 7 to Overtoomsesluis