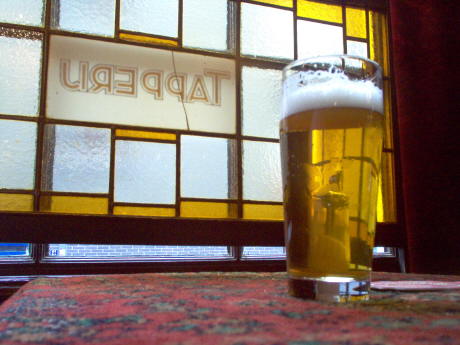 The Jordaan is renowned for its ur-gemütlich brown cafes, though I must admit to sometimes having trouble tracking them down. How I could have missed this one, right on the Noordermarkt, for so long, I can't imagine. I could do without the carpets on the table, but I'll forgive that for its multitude of other positive qualities: ancient leaded glass, no music, locals reading the paper or joking with each other, themeless decoration. Above all else, I love the feeling that its present form has only emerged after 60 or 100 years of slow evolution.

If that isn't enough for you, it has a lovely view of the Noorderkerk and seats outside to let you to admire it at your leisure. The mature trees that line the square give you a better than even chance of even getting some shade (always a priority of mine, heliophobe that I am). Note too, the very long opening hours, kicking off early enough for you to have a breakfast brandy.

It's nice and quiet in here at the moment (Monday early evening), with just enough buzz of conversation to stop me feeling uncomfortable about the noise my pen is making. Where was I? Quiet now, market day - jacked out. That was it. When there's a market on Noordermarkt, it's standing room only. So select your visiting time accoding to your taste in matters of crowdiness.

The beer selection is, to say the least, idiosyncratic. Two pilsners and two witbiers seems like unnecessary duplication. You would expect one stronger beer like Chouffe or a Dubbel. Maybe I just called when one of the beers was off.