Rotterdam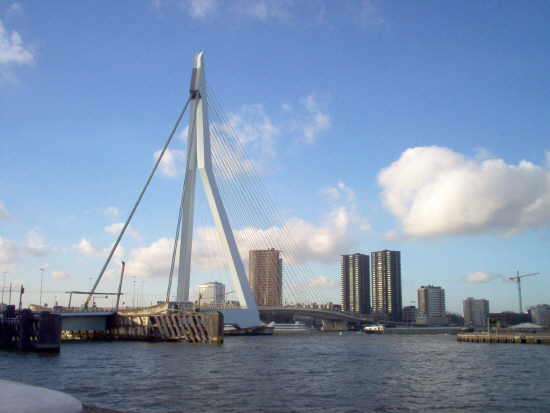 Rotterdam and Amsterdam have been rivals for centuries. Their mutual competitiveness, especially when football gets involved, can have scary results. The sad events of the war gave Rotterdam an easy way to differentiate itself from its northern neighbour: it became an aggressively modern city.

Before anyone starts accusing me of any pro-Amsterdam bias, I'll point out that my first years in Holland were spent in the city on the Maas (Rotterdam). I got to know the town well during my time in Crooswijk (I lived just down the road from the old Heineken brewery). But I had no hesitation in moving to Amsterdam when the opportunity came along.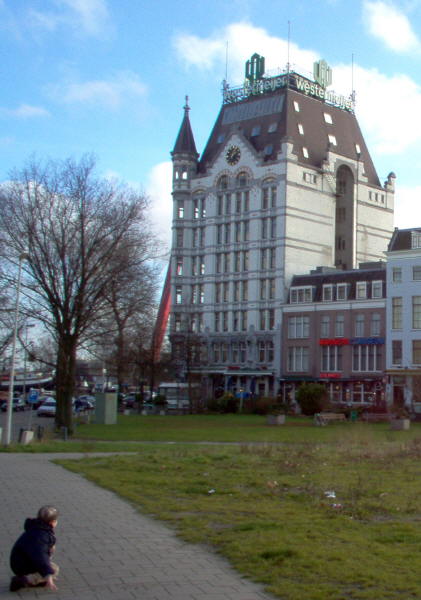 If you've read any of my other guides, you'll be aware of my enthusiasm for the thrusting glass and steel towers of brutalist architecture. There's very little else in Rotterdam city centre. I'm sure that there are some masterpieces hidden away there somewhere. I just haven't found any of them yet. (I can supply, on request, a list of modernist edifices I admire. I call it a list. It's more of a line, really.)

Wartime bombing left Rotterdam's post-war town planners with a blank canvas. They made full use of the opportunity, remodelling the city centre in a functional, rational manner, drawing upon American cities for inspiration. Unfortunately, the ideas developped by the planning community in the USA were, as we now know, total crap.

In Rotterdam, the city centre has everything - shops, flats, roads, offices, theatres, cinemas . Well, almost everything. The planners were guilty of only one slight oversight - they forgot completely about the human need for refreshment. If a first-time visitor, in search of sustenance, were to follow my standard advice and head for the tallest church or railway station, their stomach would be none too happy.


Index
Dutch breweries (large)
Dutch breweries (small)
Belgian breweries
Bockbier Tasting 2004
Bokbierfestival
Pub Index
Rotterdam City Centre Pubs
Cambrinus
Locus Publicus
Bolwerk
Boudewijn
Doelencafe
Melief-Bender
De Ridder
Delfshaven

Delfshaven Pubs
Pelgrim
De Oude Sluis
Kraantje
Beer from Rotterdam
When Oranjeboom closed and demolished their brewery on the southern bank of the Maas in the 1990's, Rotterdam lost its last industrial brewery. Not that the beer was any great loss.

Since 1996, the city does have its own brewery once more. Well, sort of. It depends on whether you think Delfshaven, where De Pelgrim is located, really counts as part of Rotterdam proper. (The council has no such doubts - Delfshaven belongs to the Gemeente Rotterdam.)