Brouwerij De Molen
Overtocht 43,
2411 BS Bodegraven.
Tel. 0172-610848
Homepage: http://www.brouwerijdemolen.nl/

Founded: 2004
Annual production: hl


Beer
alc
Description
score (100)
Borefts Witbier
4.9%
Witbier.
Pale yellow colour, little head: lemon, spice and acidic aroma; sour taste with lemon, orange and acidic aromas: sourish finish with orange, lemon and acidic aromas.
Finally, a witbier that dares to be sour again. This beer gets extra points just for that. Overall, a pleasant, citrusy beer that's very easy to drink.
(Tasted 10.09.2006)
66
Engels
5%
Cask-conditioned ale. OG 1045º, colour 13.8 EBC. Brewed for the British market and not usually available in Holland, except for accasional appearances in De Wildeman.
Borefts Stoombier
5.2%
Amber ale.
Borefts Oud Hollands Tuig
5.2%
Amber Ale. Brewed from pale malt, caramel malt and hops.
Pale amber colour with a thin, fine-beaded head; elderflower and toffee aroma; sweetish taste with smoke, caramel, pepper and resin aromas; bitterish finish with pepper, resin and yeast aromas.
Pleasant enough with some nice hop flavours, but would benefit frrom a tad more bitterness.
Tasted 30/06/2006.
58
Opdondertje
5.6%
Pale lager.
Pale yellow colour, hazy, dense head; grass, corianderand lemon aroma; Sweetish/bitterish taste with tobacco, grass, pepper and toffeee aromas; bitter finsih with pepper, tobacco, resin and honey aromas.
A well-balanced bottom-fermenting beer with delicate hopping and a smooth maltiness. One of Holland's best lagers.
Tasted 10/07/2007.
70
Boer'n
6.1%
Saison.
Hazy orange colour with a thin head; hop, perfume, barnyard and hose sweat aromas; bitter atste with perfume, orange, barntard and pepper aromas; very bitter finish with orange, barnyard, pepper and resin aromas.
A very good try at a Saison, with lots of spiciness and hoppiness and a little brett.
Tasted 11/07/2007.
79
Borefts Lenterbier
6.1%
Maibok. Seasonal - Spring.
Borefts Blond
6.5%
Blond ale.
Hazy orange colour with a fine-beaded head; metal, yeast, cream and hop aromas; sweetish/bitterish taste with orange, resin, coriander and grass aromas; bitter finish with resin, grass and tobacco aromas.
There's some ssweetness in the mouth but otherwise the tasre is dominated by hops. Much more pleasant than beers in this style usually are.
Tasted 11.01.2007.
53
Borefts Stout
7%
Black colour with pale tan, large-bubbled head; roast, burnt, cream and plum aromas; sweetish/bitterish taste with smoke, liquorice, black-toffee, cream and expresso aromas; bitter finish with burnt, ash, black toffee, date and raisin aromas.
The best Dutch beer I've drunk in ages. Packed with all the roasty malt flavours you expect from a stout. Complex, characterful and harmonious. Exactly, how I would brew a Double Stout, if I weren't a terminally inept brewer.
82
Kruier
7.1%
Dark bok. Seasonal - Autumn.
Aniseed. liquorice, ginger, cloves aroma; sweetish/ bitterish taste with liquorice, caramel and herbal aromas; bitter finish with caramel, liquorice, raisins and mint aromas.
Liquoricey and not too sweet. Supposedly brewed to a medieval recipe. One of the better bokbiers from the 2004 crop.

57
Borefts Dubbel
7.1%
Dubbel.
Borefts Zomerbok
7.9%
Pale bok. Seasonal - Summer.
Borefts Molenbier
9.2%
Strong amber ale.
Honey, biscuit, fruit and cream aroma; sweet/bitterish taste with biscuit, herbal, cream and fruit aromas; bitter finish with biscuit, toast and herbal aromas.
Plenty of hop bitterness and some biscuity malt.
65
Borefts Tripel
9.5%
Tripel. Unfiltered. There's also a filtered version of this beer.
Honingbier
9.9%
Honey beer.

Borefts Tien
10%
Dark ale. Unfiltered.
Very dark brown with a fine, pale tan head; straw, cream, dates, toffee and plum aromas; sweet taste with liquorice, black toffee, raisin, chocolate and burnt aromas; bitterish finish with black toffee, liquorice, burnt and cream aromas.
A roasty, powerful dark beer with lots of complex malt flavours. Another winner from Molen.
Tasted 09.01.2007.
79
Rasputin
11%
Imperial Stout.
Black colour with a fine-beaded tan head; milk, burnt and smoke aromas; sweetish/bitter taste with toffee, liquorice, caramel, dates, treacle and cream; bitter finish with burnt, smoke, liquorice, plum and milk aromas.
A big, chew Imperial Stout jam-packed with malt flavours. Very nice.
Tasted 11/07/2007.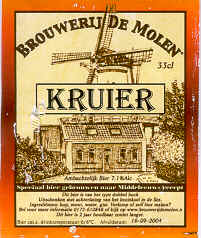 Microbrewery. There is a brewery tap which has 6 house-brewed beers on draught. One of the most reliable Dutch micros, producing beers that are technically good and interesting in style. It's also the only Dutch brewery currently producing cask-conditioned beer.