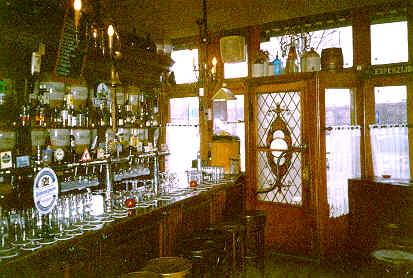 I'll put this at the start so you don't miss it. Hesp is worth the trek.

What is Hesp? Hesp is a dark brown café in a very odd corner of Amsterdam, sandwiched between the river and the railway line, just about the length of a particularly long train of irate commuters away from Amstel Station. As the colourful leaded glass front door says, it's been going since 1890. (I wonder for how many people this statement of chronological certitude has been the last sure memory of a memorable night?)

Let's be honest: this is a part of Amsterdam I hadn't yet got around to visiting, before seeking out Hesp. Now, having house-hunted (and searched for afterparties) here, I've seen pretty well every corner of the city, in the course of one fruitless journey or another. My son's determination to travel every tram route from terminus to terminus has also taken me to places you really don't want to go to. And still; the closest I had ever come to Hesp was sitting aboard an ICE to Dusseldorf.. Let's say that it's slightly out of the way for the casual visitor. Unless you happen to fall out of a train.

The main section has two rooms - at the front is the bar counter and a couple of tables (you should be able to see most of that in the photo above . . . or, if you have a microsoft browser, somewhere below . . . perhaps). At the rear are some more bits leaded glass, and very pretty they are, too. You can't knock the Dutch for their commitment to leaded glass in a domestic context. (If anyone, in your presence, ever tries to belittle the commitment of the Dutch to leaded glass in a domestic context, just remember my words.) It has the usual mismatched wooden furniture, bare floorboards and nicotine-dark walls. A collection of beer memorabilia brightens up the place a little. (After a while, it starts getting difficult to come up with anything very new or engaging when writing these descriptions, even when the pub in question is as good as this one. I just can't be arsed to try.) An opening has been knocked through to the house next door, where there is a restaurant kitted out in a similar style. I've not eaten here, so don't ask me about the food. I'm not so affluent that I can dine out in my home town.

The draught beer selection is wide and varied, the German-style wheat beer being a particularly refreshing variation. De Blonde is a house beer, brewed by van Steenberge in Belgium. The bottled beer selection is surprisingly limited, barely equalling the draught. But, look, I'm not going to get through all the draught beers in one session, anyway. Hesp's good points - and there are plenty of those - easily outweigh quibbles about numbers.

Overall, an excellent specialist pub, worth the journey out of the city centre. The easiest way to get there is with a train or metro to Amstel Station, from which it is a 5 minute walk. However, depending on the weather, it can seem so much longer. Try, as I did, to select a very wet and windy day for your first visit. There's a bit of a price to pay in terms of soggy misery, but I guarantee you in return at least one half hour of pure magic.

(I would like to point out that this "guarantee" in no way, shape or form implies that I actually guarantee (in a legal sense) any magic, or even slightly interesting, experiences for anyone, their spouses, or their next of kin. I reserve the right of real life to be deathly dull and disappointing.)
In the Summer there is outside seating alongside the river. Very pleasant, if the weather's good. But as 2003 has been so terrifically hot, that isn't likely to be the case for a decade or two.